Demystifying Human Trafficking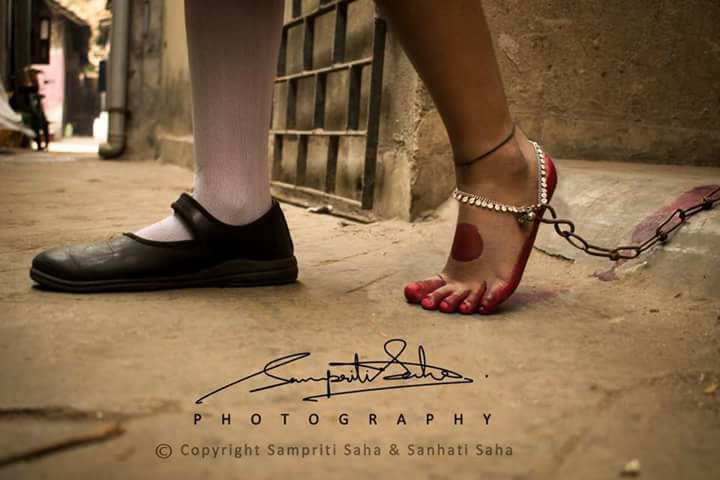 "What the heck does human trafficking have to do with trauma-informed care – or me, for that matter?"  
I have heard this questions asked again and again, not only by mental-health professionals but also, by trauma survivors who were victims of human traffickers.  
For me, the answer had always been, "Nothing!" I saw no need to even attend to all of the hoopla about human trafficking. Yes, I did know that it was a huge problem:
"Trafficking women and children for sexual exploitation is the fastest growing criminal enterprise in the world. This, despite the fact international law and the laws of 158 countries criminalize most forms of trafficking. Sex trafficking is a lucrative industry making an estimated $99 billion a year. At least 20.9 million adults and children are bought and sold worldwide into commercial sexual servitude, forced labor and bonded labor. About 2 million children are exploited every year in the global commercial sex trade. 54% of trafficking victims are trafficked for sexual exploitation. Women and girls make up 96% of victims of trafficking for sexual exploitation" (https://www.equalitynow.org/sex-trafficking-fact-sheet).
Despite my awareness of this situation, I had always assumed that human traffickers were hidden bad-guys who gathered victims and transported them to different countries where they were sold or forced to work as slaves.
Ultimately, my ignorance about human trafficking came to light about six months ago when I was planning a conference on trauma. The conference was designed to increased awareness for survivors, professionals, and supporters. One of the speakers arranged a human trafficking panel, which included trauma survivors, a therapist, and law-enforcement officer. As I watched the panel-members interact, my worldview began to unravel. I concluded that human traffickers are the perpetrators of nearly all trauma that victims have endured. These abusers are not hidden bad-guys, but anyone who exploits, deceives, or coerces for the purpose of profiting or benefitting. It has nothing to do with 'movement', but everything to do with exploiting and/or selling victims.
"Trafficking in persons" shall mean the recruitment, transfer, harbouring or receipt of persons, by means of the threat or use of force or other forms of coercion, of abduction, of fraud, of deception, of the abuse of power or of a position of vulnerability or of the giving or receiving of payments or benefits to achieve the consent of a person having control over another person, for the purpose of exploitation. Exploitation shall include, at a minimum, the exploitation of the prostitution of others or other forms of sexual exploitation, forced labour or services, slavery or practices similar to slavery" ( Palermo Protocol). 'Trafficking', means trade - not movement.
Clearly, this law defines the act of human trafficking, but fails to clarify how to identify victims, survivors, or perpetrators of human trafficking. Without education and awareness about trauma and symptoms of trauma, perpetrators continue profiting and victims/survivors remain misunderstood. Below is a real-example:
Izabel is forty-three years old. Until a couple of years ago, she was unaware that trauma-symptoms were causing her difficulty in functioning. In fact, she is a college graduate, a successful nurse, and loving parent of two children. She began seeing a therapist when the stresses of everyday life became so overwhelming that she was no longer able to cope or function at all. She presented with an array of symptoms and conditions including: dissociative disorder, post-traumatic disorder (PTSD), self-injury, suicidal ideation, eating disorder, depression, isolation, relationship problems, etc.

Izabel's therapist began treatment with the goal of discovering past trauma that could be causing all of her symptoms.  At first, Izabel remembered her childhood as uneventful. Her parents were professionals - her father a medical doctor, and her mother a dentist. Within a couple of weeks, the therapist began the work of 'processing memories'.  Izabel remembered early school-life as a good time where she felt safe. Her grades were impeccable as was her behavior. She did remember one teacher asking her about welts and bruises that she had not noticed until they were pointed out. That day, she panicked and ran from the school. As she told the therapist about this school memory, she felt the familiar fear, helplessness, and hopelessness that always preceded her practice of self-injury.

During one session, she told the therapist about when she was a teen and got lost in the city. She remembered that a police officer took her to a nearby hospital where the staff treated cuts and bruises, and called her parents to take her home. She remember wanting to stay with the police or at the hospital, to tell them – what? She could not recall, but while sharing with the therapist, she felt sad, lost, ashamed, and rejected.

Therapy sessions have included intense memory work to help Izabel process traumatic incidents of torture, rape, and emotional abuse. Although she has undergone therapy for two years, she has not shown signs of improvement. She is depressed, isolated, and overwhelmed with fear and paranoia - terrified that past abusers will find and punish her for 'telling'. She has attempted suicide many times, practices self-injury, and reenacts past abuse of a ritual nature. She punishes herself every time she thinks about her past abusive situations. She has been hospitalized multiple times for her own safety. Both the therapist and she now believe that she was ritually abused and programmed by organized perpetrators whom she has been unable to identify.
As is common with many survivors and victims, Izabel is not only reluctant, but also seemingly unable to identify her abusers for several reasons: shame, fear, insufficient information, etc. In her case, her parents accepted money in return for them making her available to perpetrators who abused and sold her from the time she was two-years-old. Though, she does recall going to stay with a family friend, she does not recall any abuse happening there. She does recall her parents accepting large amounts of money from this 'family friend'. The police, hospital staff, her teacher, and a trained therapist had a chance to help her, but never thought to ask about the actual perpetrators – her parents. Though they didn't perpetrate the actual abuse, they were guilty of trafficking, because they SOLD her!!
Essentially, this is a common mistake, made out of ignorance about human trafficking. Firstly, it is common for traffickers to make children available for profit, but never carry out any abuse themselves. Secondly, trauma perpetrated by traffickers cannot be quantified or separated into 'types' of abuse or symptoms/behaviors of the victim or survivor, because perpetrators utilize an array of abuses in order to control their victims. The training that traffickers perpetrate on their victims is extensive and effectively alters victims' core-beliefs and sense of self from an early age. Victims learn that their safety is directly dependent on their loyalty to perpetrators who threaten their life in order to keep them from telling. Victims learn from abusers that their worth as a person is dependent on serving and pleasing adults rather than fulfilling personal needs - a common theme among most survivors and victims of abuse.
Because human trafficking is directly relating to childhood-trauma, education and awareness of the implications of human trafficking are imperative in order to understand symptoms, conditions, and the best courses of treatment.
The above diagram demonstrates the complex nature of human trafficking that creates confusion for providers, survivors, and victims.  Realizing that nearly all abuse-trauma is perpetrated by human traffickers (see definition), everyone can work together for the common goal of not only identifying and prosecuting traffickers, but also rendering respect, support, and mental health resources for survivors and victims of abuse.  
Recently, Izabel's therapist decided to attend a conference where folks from all walks of life gathered to talk about human trafficking in order to gain a comprehensive understanding of how to identify and work together effectively. She sat through two days of workshops and plenaries as well as interacting with attendees and speakers. Survivors spoke of their experiences, and professionals presented workshops. She learned why trauma-informed care is important when working with clients. Mostly, she came away realizing that Izabel cannot move forward in therapy until she accepts who perpetrated the abuse. It was not some unidentified bad-guy hidden in the shadows of organized crime, but rather, someone she knew – her own parents.
Following the conference, Izabel's therapist planned to begin a more trauma-informed approach. She would ask Izabel about her parents and their relationship to this family friend. She realized that upcoming sessions would be difficult for Izabel, but also knew that she would be there to support her – something Izabel had always deserved – to finally feel safe and free from the guilt and shame that had always plagued her life.
Patricia Goodwin, MA 2018
Do not copy or distribute without permission from author.
2018 Conference - Trauma and Trafficking: Comprehending the Complexity of Trafficking as Trauma