Satanic Ritual Abuse (SRA) and Mind Control (MC) - Paranoia and Delusion?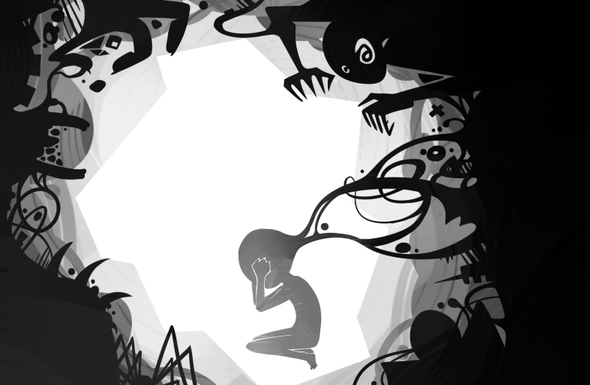 Abuse survivors often wonder why people don't seem to believe them when they talk about their past experiences of SRA and/or MC.  Could it be that their own distrust and paranoia of people has led them to such conclusions?  Or could it be that their delusional thinking has caused them to behave so erratically that people would not believe much of anything they say?  Or could it be that the listener is unable to accept such horrific experiences as real?  
Clearly, SRA and MC are alive and well in our world - there is plenty of evidence to prove that as fact.
I have never told my story about how I became paranoid and delusional to the point of needing hospitalization and medication.  It started on a forum exclusively for folks who had or believed that they had experience SRA and MC.  I had described some of my childhood experiences to a friend whom referred me to this group - which is still running today.
Within the first six months that I interacted with the other members and leaders, I was told that:
I had d*mo*s inside me making me do bad things that I could not remember.
Handlers were coming in the night, drugging me, kidnapping me, raping, and re-programming me without my knowledge.  I could tell if there was any dirt on my shoes in the morning.
A 'twin' me actually raised my children while I was doing the bad-guys dirty-work - without my knowledge.
When I went out, bad-guys were always following me, hypnotizing and cuing me - without my knowledge.  I was getting in their vehicle and again, being re-programmed and even working as a prostitute or drug-runner - whatever they programmed me to do.
The programming NEVER goes away - I had no power.  The bad-guys always had and will always have control over my thoughts and actions.
If the phone rang, I should check the number - numbers are cues.  And, people called me to trigger cues so that I would do as I was programmed to do.
I couldn't trust my kids or husband.  Our marriage was set up so that my husband could watch and report my ever movement to the bad-guys.
Therefore, I was told that I was a programmed robot with no free-will or even knowledge of my own actions or behavior.  I spent every moment looking behind me, knowing that someone must be following.  I believed that everyone who called me was a programmer, that ever number meant something.  I checked my shoes every morning and did find bits of dirt on them.  I checked for needle marks where they might have drugged me.  I knew that I had d*mo*s inside, and believed that I was going to Hell for something that I must have done.  I became so delusional and paranoid that I tried to take my own life - a serious attempt.  I was hospitalized and, of course, the stories I told the Drs. there were not taken very seriously.  
I believed this group of people, because everyone else did - because the leaders were supposed experts in SRA and MC.  I am feeling shaky just remembering being a part of that group.  When I returned from the hospital, I began questioning some of these notions (that they truly do believe).  They turned on me and for the next decade have not only totally believed, but have told everyone else, that I am a cult-operative handler only out to hurt people for the bad-guys.  For some time, their rejection of me did hurt.  I didn't understand how people who say that they are helping and supporting survivors can, without even realizing it, screw their thinking up so badly.  I now know that you don't challenge their beliefs without 'paying for it'.  
Now, some 11 years later, I see clearly the paranoia and delusions they create in survivors - limiting their ability to move forward, to think for themselves, to heal.  Yes!  Our experiences are REAL.  The paranoia and delusions created by these groups and leaders are also REAL.  I came to realize that I really do know when I have been raped.  I learned to be aware of the outside world and realized that no one can be hypnotized or programmed by anyone that easily.  Of course, I am not possessed by d*mo*s.  All that they tried to make me believe was bs.  Okay, so any sane person can easily recognize how these sort of beliefs removes all power from already vulnerable people.  
Finally, I thought that I was free of this sort of creepy paranoia talk until during the 2015 Trauma and Dissociation Conference last year when I heard one of our speakers telling attendees that a presenter was 'programming' the audience with hand-signals.  Really?  Another 'true-believer' - supposed expert in SRA/MC.  But, all of her expertise is based on the very crap that they fed me when I belonged to that group - paranoia and delusional thinking.  I rolled my eyes and explained that our conference encourages healing - not fear-mongering.  She wanted to argue the point.  
That discussion did not end there.  These people have written several articles warning folks not to go to conferences, because they will be programmed by hand-signals, winks, tapping of a pencil and on and on.  According to them, anyone can also be hypnotized to bark like a dog or run in circles without their knowledge.  Everyone is told to be careful of any person they bring with them - that person could be their 'handler'.  
In other words, everyone is vulnerable to being controlled at a conference.... unless they distrust everyone who even talks to them.  They can't watch the presentations without fearing that the presenter will program them with their hands and facial expressions.  The could even be taken from their bed, raped, and programmed without their knowledge.  They should check their shoes.  And, possibly everyone is possessed by d*mo*s.  
This sort of fear-mongering angers me greatly.  Firstly, the information is not only incorrect, but scary and triggering.  It is difficult enough for survivors to go to a strange place and meet new people - without this sort of warnings.  
The Trauma and Dissociation Conference is coming up again soon.  All previsions have been made to ensure the safety of everyone during the conference.  The planners of this conference include folks who have experienced extreme trauma - including SRA/MC survivors.  In fact, one survivor is flying in from Australia to present, and I am sure assumes that other survivors are supporting her courage.  She is brave and strong - not paranoid and scared, because she is healed, which she will talk about at the conference.
I know that some know whom I am talking about, and I have always tried to support them as much as I could, but I cannot support this sort of fear-mongering anymore.  It is clearly damages survivors and their ability to realize that they do have free-will.  Just because a small group of people have become so paranoid as to be delusional does not mean that what they tell people has any basis in reality.  If there were any truth in what they are saying, someone would have noticed something.  But, no - the only thing that has been reported at our conferences was people being afraid that something 'might' happen.  Our attendance right now is at about 60 survivors and about 70 clinicians with a total of about 160 people.  We expect about 200 attendees.  And... the speakers are experts who have treated and researched SRA and Mind Control.  Education and awareness with the intention of promoting 'healing' is most important for everyone.  
I am sorry, but I had to write this out.  You all deserve to know the truth - some already do - some don't.  Believe me or not.  If you are racked with delusions, please do not come.  If you want to learn the truth, try to come.  Everyone is welcome.  If ever you feel unsafe, just know that everyone is there for each other -
Hope to see you there.  
www.igdid.org
Pat Goodwin / Felicity Lee
President, Ivory Garden
Copyright protected 2016 - do not copy any portion of this article without permission from the author.